Anticipating the big launch of Honkai Star Rail on April 26 of this year, we release this Honkai: Star Rail Interactive Map, where you will find all important locations in the Herta Space Station, Jarilo-VI and Xianzhou: The Luofu: Space Anchors, Imaginary Caries, Puzzles, and so much more. This map is a work in progress since the game is not released yet. All information was gather from previous tests.
In Honkai: Star Rail Interactive Map, you can explore the world and find every Challenges, all Side Quests, Treasures and every point of interest. Don't miss anything in your adventure.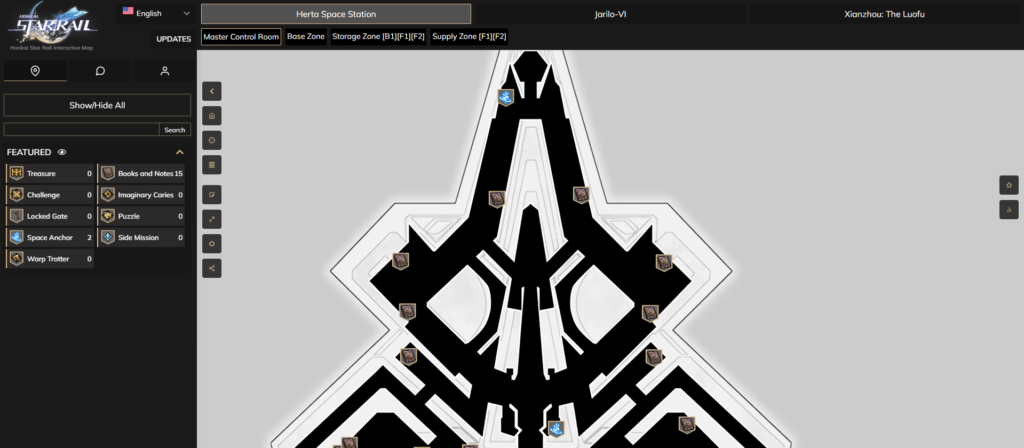 Honkai: Star Rail Map | Features and Details
Each mark you see on the map is pointing to an important game feature. The markers are divided into different categories, making it easier for you to find what you are looking for. Let's see a few of the things you will be able to find in our Honkai: Star Rail Map:
Treasures
Books and Notes
Challenge
Imaginary Caries
Locked Gate
Puzzle
Space Anchor
Side Missions
Warp Trotter
And that's just to name a few, there are so much more items and places to find in the game, and you can locate every one of them using the Honkai: Star Rail Map Interactive Map.
But that's not all, this Interactive Map keeps growing and not only with the regular updates, it grows because the community can contribute with comments, sharing their discoveries and helping each other. You can make your own contribution by leaving a comment, you can see what other users share and vote the comments you find most useful. This is a real interactive map, which will improve and grow alongside the community. All features of Honkai: Star Rail Interactive Map are free, no VIP and no restrictions at all.
Check out Honkai: Star Rail Interactive Map on this link. We really hope you enjoy it!